Habitats
Various reports focussing on western Places, their
topography and associated Plants and Animals…
Habitats
Kesh Mountain, Co. Sligo.
A free-standing large hill with many interesting plants,
caves, history and pre-historic remains.
Eagles Rock, Co. Leitrim.
Birds and other Animals
Our former site (LoughAllenBasin.com), now archived,
was motivated by the stunning wildlife of that location
and the time and the boat we had. We will be
transferring some of the data from that site to here.
Daubenton's Bat
The 'water bat' on the Shannon
*
One of the few mammals we have studied. Report
shows distribution and population change over 10 yrs.
Opens NEW TAB to Lough Allen Site.
(Broswer BACK)
Red-breasted Merganser
A year in the life of our Mergansers
*
A beautiful duck, common in the sea around Ireland in
Winter with an interesting small breeding population
in Lough Allen that we have have studied for many
years almost exclusively.
Glaucous Gull
A frequent visitor to NW Ireland.
Not a native Gull but seen around the north west
coast from October to May. A very large gull with no
black on wing-tips and often an overall
magnolia/white colour
Common Scoter
Few sightings on L. Arrow.
A declining breeder in Lough Arrow. Numbers are few
now probably due to and movement of their breeding
range northwards.
Common Tern
An expanding species in Western Lakes
*
This Report is from L. Allen but will open in a new Tab.
Common Sandpiper
Distinctive bird of western shores
*
Opens a New Tab in LoughAllebBasin.com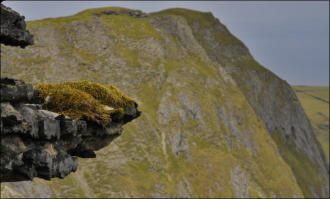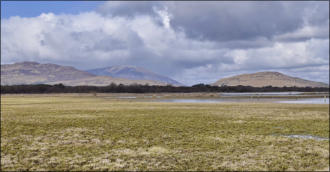 Reputed ancient site for Eagles but none here now
though Donegal birds can be seen occasionally in the
area. Mainly interesting from a geological viewpoint
and for some rare surviving alpine plants.
Dartry Mountains, Co. Sligo.
The mountain range containing Truskmore, Benwiskin
and other high limestone areas known for rare
saxifrages and other alpine plants.
The Burren, Co. Clare.
One of Ireland's prime
orchid sites.
South L. Cullin mudflats
(RIGHT) and some
breeding birds.
Strandhill Habitat, Co. Sligo
(Updated 2020)
A major Dune, machair, and estuarine habitat with
many interesting plants, birds and mammals.
Killeglan SAC 2021 Co Roscommon
(Update for 2022 coming soon.)
An amazing karst habitat which, being an SAC, is
protected during the Summer allowing some rare Irish
orchids (Dense Flowered and Green Winged) to thrive.
(Recent interesting records found May 2022)
Lough Cullin mudflats in Spring.





WildWest.ie
continues the work started with
LoughAllenBasin.com
We have linked to certain archived pages on
that site, but WE ARE NOT UPDATING it! If you visit such a page return here using a WildWest TAB or use the BACK
BUTTON on your Browser. Thank you!
Strandhill Habitat, Sligo
UPDATED
with new research
on the other Spiranthes,

S. spiralis

in this area…
A Study of D. cruenta

a rare, short lived, orchid from
West Clare to East Russia…
Orchid Habitats

in Britain. A study of other orchids
from SE England.
Small Fens & Limestone Lakes. A Covid Study (5km
zone) with remarkable life and history.
Other Topics
News / Records / Research / Reports…
Conservation…
Several Orchids species are at risk due to commercial
development, forestry, drainage, etc. and we need to
conserve this age old Biodiversity. Our rare plants
really should be protected

. They are (by Law) but in
other ways they just look after themselves!
Irish Lady's Tresses

is a very rare orchid. We have
participated in conservation before but now want to
work with Local and National interests.
While well represented in Mayo this species is scarce
elsewhere and unknown in Europe apart from Ireland
and Scotland. This years survey is now in progress…
[More]
* LINKED SITE: